Anti-Spam Policy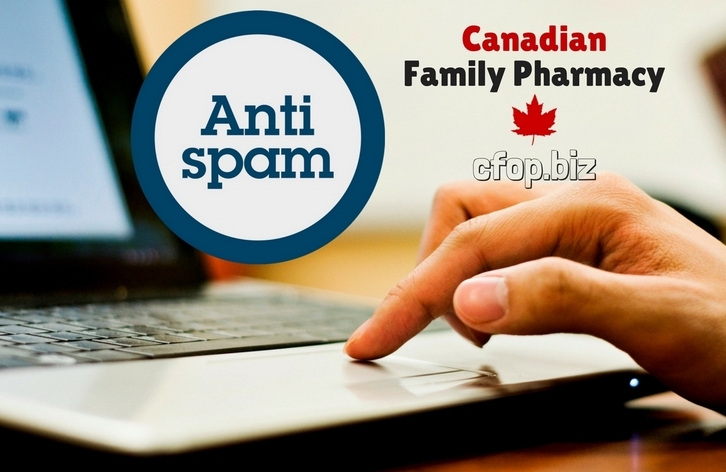 This policy is designed to counteract spam and other law violations through Canadian Family Pharmacy service. The user of our website accepts the terms of this Anti-Spam policy.
We do not cooperate with organizations or individuals who send undesired e-mail messages.
1. What is Considered Spam?
Spam is considered to be a mass mailing of e-mails of commercial content to people who did not give their consent to receive this information. Mass mailing refers to sending messages with the same content to a large number of recipients. Sending spam using Canadian Family Pharmacy service is strictly prohibited.
When using our service, the user must follow the following rules:
The subject and the text of the message should not contain false, incorrect or misleading information;
Messages should not be sent to subscribers without their prior consent;
User's actions must not contradict the federal laws.
Content of Messages
The user must provide accurate information in the headers and text content of messages. The recipient must be able to clearly identify the sender. The content of the header and body of the message should not mislead, misinform, violate its rights, violate the copyright of third parties.
Guarantees
The fulfillment of the following guarantees will ensure compliance with the legislation when using Canadian Family Pharmacy service and protecting the interests of all email participants in case of claims.
Our customers ensure that when using the service:
They have previously received the consent to receive email messages in accordance with the legislation;
Do not use purchased databases with e-mail addresses, information from directories, as well as data collected by programs for retrieving e-mail addresses;
The database of e-mail addresses used for e-mailing contains no users who refused to send mail;
Comply with all the requirements of the current legislation about the personal data, and that they have received consent to the processing of personal data;
They do not use Canadian Family Pharmacy to advertise goods and services which advertising is prohibited or restricted on the Internet.
How We Counteract Spam
We make every effort to ensure that messages from our service successfully reach the addressees. That is how we prevent sending of undesired messages:
We pre-moderate all outgoing mailings;
We block accounts of those users who are trying to send spam;
We prohibit mailing to addresses that did not give their direct consent to receive messages from Canadian Family Pharmacy online service;
We include a link to refuse the mailing into each email;
We constantly monitor public black-lists and immediately take measures to remove our mail servers from them.
For users
If you receive a mailing using Canadian Family Pharmacy, this means that the client has given his consent to receive email messages from this service.
If you did not give this consent, you can inform us about spam at orders@cfop.biz. After that, you will be excluded from the mailing list, and we will verify the legitimacy of the client's inclusion of your email address in the mailing list. You can also use the "Mark as Spam" button of your email provider.
In addition, you can always unsubscribe from our mailing list by following the unsubscribe link, which is available in every letter from Canadian Family Pharmacy.